Arch Piece Codes (June 2022) – Free Beli and more
Arch Piece is a Roblox One Piece game and is still in beta, so there may be some issues that you run into. That being said, you can collect Devil Fruit and get strange powers as you sail the sea, looking to become the ultimate pirate.
Codes in Arch Piece will give you various rewards like Beli, so keep an eye on them. These will also have expiration dates, so you must use the codes before they expire. We have compiled a list of available codes so you can earn gems and more in Arch Piece.
If you're looking for more Roblox content, check out Roblox SCP Tower Defense Codes, Roblox Doodle World Codes, Roblox Aimblox Codes, Roblox Sonic Speed Simulator Codes, and more on Pro Game Guides. These Roblox code pages will certainly help you out.
All Arch Piece Codes List
Updated June 21, 2022

Added new codes
All Arch Piece Codes List (Working)
TESTING1000—2,000 Beli
LIKE500—2,000 Beli
SubToJosephR—2,000 Beli
SubToObito—2,000 Beli
SubToXou—2,000 Beli
FREERESET—Free stat reset
SubToDua—2,000 Beli
SubToKilik—2,000 Beli
SubToCaptainMaui—2,000 Beli
SubToTanTai—2,000 Beli
BETA2000—2,000 Beli
SubToLeviniGamer—2,000 Beli
All Arch Piece Codes List (Expired)
Roblox Arch Piece Codes FAQ
Here's everything you need to know about Roblox Arch Piece codes.
How to redeem codes in Arch Piece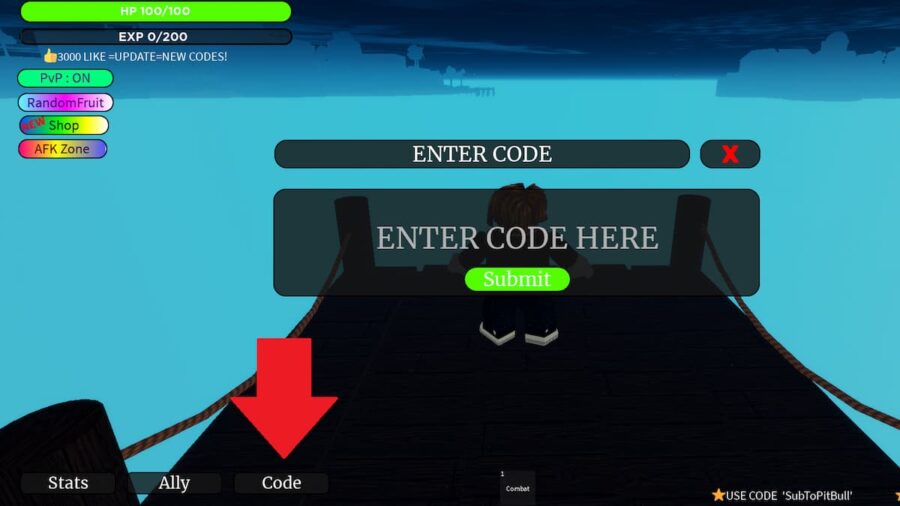 Codes in Arch Piece are useful for getting resources and rewards quickly. Here is how to redeem codes in Arch Piece.
Click on the three lines icon on the left side of the screen.
Select Codes.
Enter the code and hit submit.
How to get more Arch Piece Codes
The best way to get more codes is to join the Arch Piece Discord or Community Group. These are the best ways to get more codes for Arch Piece. You can also check back at this page for more codes as they get released!
Why aren't my Arch Piece Codes working?
The developer controls codes for Arch Piece and determines how long they are active. Some codes may expire quicker than others, and some may not work with others. If a code does not work for you, double-check if there is a spelling error, the code isn't active yet, or it has already expired. To help solve that issue, bookmark this page and come back often to see if Arch Piece has added new codes or if some are expired.
What is Arch Piece?
Arch Piece is a self-titled meme One Piece game in Roblox. Live the life of a pirate and collect Devil Fruit to gain strange powers. You will earn the title of King of the Pirates with enough hard work. As Arch Piece has a more meme approach to the popular anime, things may get a little weird as you play.
For more information on Roblox, check out Roblox Super Doomspire Codes and All Roblox Royale High Mermaid Halo answers on Pro Game Guides.