Fortnite Chapter 2: Season 4 Leaks – Hightower Event & More!
With Season 3 looking like it's going to wrap up soon, we thought it was time to take a look at what is known about Chapter 2: Season 4! While not a whole lot of information is available yet, there has been some intriguing leaks that point to some of what is to come in the next season of the Battle Pass. We'll walk you through everything we know currently, and update this post whenever additional information has been released.
If you want to stay spoiler free for the upcoming event at the end of Season 3, and what is to come in Season 4 then I would recommend exiting the post right now! I do find that a lot of the fun is ruined by knowing all of the information beforehand, I do understand that some players want to find out every detail prior to the release. If you are a person that really enjoys the intrigue of future events, make sure to try and stay spoiler free!
Hightower Event
What is known as the "Hightower" event is looking to be what leads us into Season 4. Each season is usually book-ended with a big live event that will feature quite a bit of what is to be expected in the following season. In Season 2, we had the big wave event that created huge walls of water that eventually swept across the island and submerged a lot of the map. In Season 3, we are apparently going back to the old school, because there's been leaks of cracks in the sky that harken back to the days of The Visitor.
As you can see from the following Tweet, the early stages of the event will center around The Agency. There's going to be a crack in the sky, a new crater POI, runes to the south of The Agency, and then a possible "Hightower" area even further to the south.
Another leak before i go to sleep.. these will appear in the map very soon!

Crack: its the Rift in the sky from my previous tweet
Crater_POI: is an encrypted small POI
Hightower: i'm not really sure, i might be wrong on that one
The Dots: they are 6 Runes like the one in the pic pic.twitter.com/b53OBD5Vjh

— HYPEX (@HYPEX) August 6, 2020
Here's a look at the rift that will be added to the game in the near future:
This "HighTower" Rift will appear in the map very soon, right above the agency, here's how it sounds:

Also HUGE thanks to @Asriel_Dev for helping me enable it ingame, drop him a follow! pic.twitter.com/QPJLodCws0

— HYPEX (@HYPEX) August 5, 2020
The "Hightower" event gets its name because the runic markings are called "Markings_Hightower_001" in the files. These file names don't necessarily mean much, and are usually somewhat coded to keep people from knowing exactly how they will relate to the story. These markings have been speculated to be what is left behind when a character uses the Bifrost, which is how Thor and the people of Asgard use to travel between realms. It is used quite frequently in the various Thor and Avengers movies on how different characters get around.
Here's a close look at the new HighTower Marking related to HighTower Event!#Fortnite #Fortniteleaks pic.twitter.com/HpBpGZpLjn

— PeQu – Fortnite Leaks (@PeQuLeaks) August 6, 2020
While that was a possible clue towards the addition of a Thor skin in Season 4, there's a whole lot more that points directly at it…
Thor is the Secret Skin?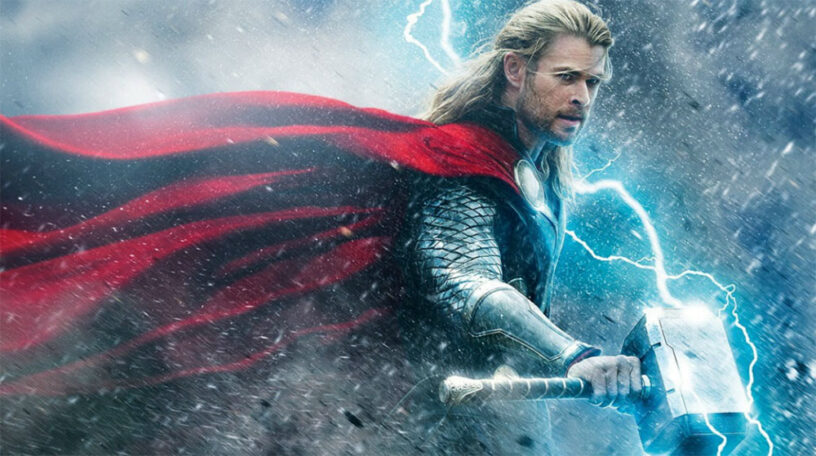 All signs are pointing to Thor being the secret skin. I've done a post covering this already, but I'm going to dig into it a bit here as well. The major leak and what is very likely pointing to it is the upcoming addition of comic book teasers being placed into the Battle Pass menu. This was found by some players on the PS4 console:
Here's a better video of the comic books thing, it appears if you switch accounts on Xbox, idk about PS4.. pic.twitter.com/q456XIJXci

— HYPEX (@HYPEX) August 6, 2020
If you zoom in close on the comic book page, you will see some familiar figures and things that directly relate to upcoming events and Thor: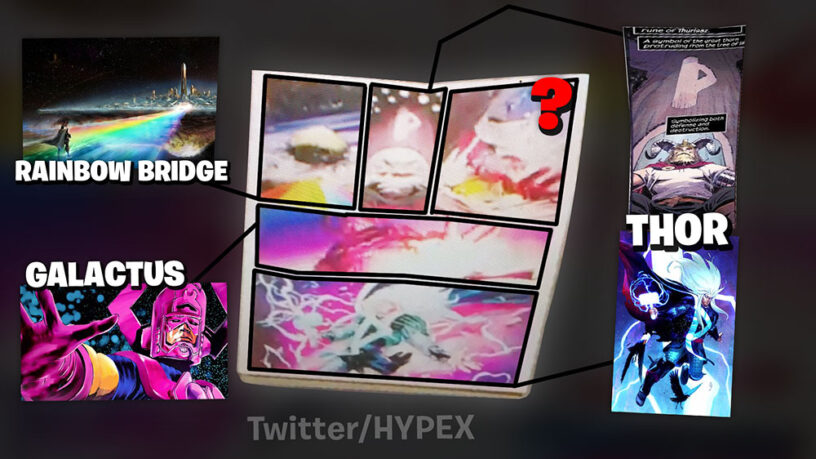 The rainbow bridge is obviously the Bifrost, you have a pretty clear image of Galactus, who is one of Thor's major enemies. You also have Thor at the bottom looking like he went Super Saiyan 100. This has been further confirmed in the spectrogram of a rift sound that will be added to the game soon:
If you play the Rift sound (previous tweet) in a spectrogram it shows a shape of "someone", thanks to @Asriel_Dev again for getting a very clear view! pic.twitter.com/854LAelyYQ

— HYPEX (@HYPEX) August 5, 2020
This very much looks like Galactus, who was mentioned previously. He might play a big role in the story and what is to come. Him battling with Thor might be what causes the big event that is expected to happen soon, but we'll have to wait and see!
That is pretty much everything we know about Fortnite Chapter 2: Season 4! We'll be updating this post with additional information as soon it is known.