Genshin Impact Fort Mumei puzzle and Kitain Cross Spear guide
Fort Mumei is the final part of the Orobashi's Legacy quest chain, so make sure you've completed the puzzles in the previous locations before going there. It's located to the west of Fort Fajitou, and talking to Kaji once you're there leads to a surprise. Here's our Genshin Impact guide to help you finish Orobashi's Legacy Part IV, complete the puzzle in Fort Mumei, and obtain the Kitain Cross Spear.
Note: For more information about the game, check out our Genshin Impact guides and features hub.
Genshin Impact Orobashi's Legacy Part V guide – Fort Mumei puzzle and the Kitain Cross Spear
Once you're done talking to Kaji, a cutscene will trigger. Fort Mumei will rise from the depths, and you'll soon see additional pillars that are part of the final puzzle.
So, what exactly does Fort Mumei's puzzle entail? Well, compared to the previous ones that we've solved, this part is actually easier. Don't forget to sail your Waverider from time to time since it's better than swimming and losing stamina.
In any case, the idea here is to work counter-clockwise. starting with the generator and the nearby fallen pillar. Mind you, even if a pillar has fallen, you can still change its orientation and elevation, allowing you to target the next one in the sequence.
Keep going around Fort Mumei until you reach the last pillar. Have it face the water barrier, then hit the generator so it can fire its orb.
Once the barrier is destroyed, you'll see that the ward is defended by a Maguu Kenki. It's not the elite that you can fight in the open world (it doesn't even drop loot). However, it still uses Cryo attacks and there are watery sections that can cause you to get frozen.
After defeating the Maguu Kenki, you'll see the two components (one on the ground and another on top of the ward). Place these inside to finish the task.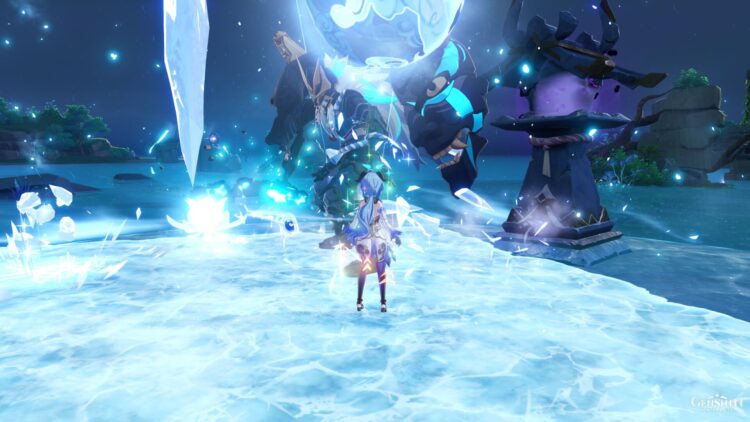 Completing the Orobashi's Legacy quest chain nets you the Kitain Cross Spear recipe. Open the precious items tab of your inventory to learn it.
Similar to the Hakushin Ring, the Kitain Cross Spear requires 50x Amethyst Lump and 50x White Iron Chunk. However, you need a Northlander Polearm Billet as a material.
The Kitain Cross Spear has elemental mastery as a sub-stat. Likewise, it has the "Samurai Conduct" perk. It increases elemental damage by 6%. But, you also lose a bit of energy when your elemental skill hits an opponent. Then, you'll regenerate extra energy for a short while (and the energy regen even occurs if your character isn't on the field).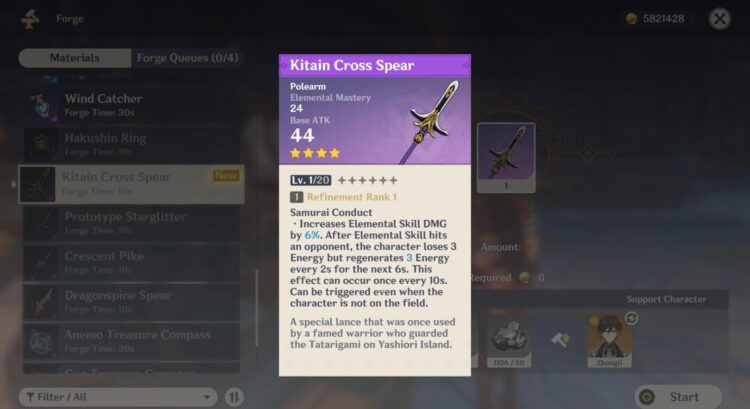 ---
Genshin Impact is available via its official website. For more information, check out our guides and features hub.