Get Strong Simulator Codes (July 2022)
In Get Strong Simulator, players are born with dumbbells in their hands. Curling should be continued until you get bigger and heavier weights. Unlike most Roblox weight lifting games, you're not trying to travel to outer space, other worlds, or even get currency. In reality, you're just trying to get bigger to lift more and then attack other players.
The codes below make growing and reaching Rebirths much easier in Get Strong Simulator. In Get Strong Simulator, you can get more strength and multipliers to get more strength from each rep. Try them out and see how much easier it makes the game since most of it is just grinding to get bigger, so this will take some time off of what you have to do.
We have other games like Get Strong Simulator, which also have codes. You should check out Muscle Legends Codes – Free strength & gems!, Roblox Strong Pet Simulator Codes, or Roblox Weight Lifting Simulator Codes.
All Get Strong Simulator Codes List
Updated July 1, 2022

Added new codes!
Get Strong Simulator Codes (Working)
Here's a look at all the working Get Strong Simulator codes.
GIFTS—Redeem for a 5x Multiplier
4MVISITS—Redeem for 100k Strength
20KLIKES—Redeem for 200k Strength
Get Strong Simulator Codes (Expired)
These codes for Get Strong Simulator no longer work.
CLANS—Redeem for a 5x Multiplier
2MVISITS—Redeem for 100k Strength
7KLIKES—Redeem for 200k Strength
2KLIKES—Redeem this code for 200k strength
1MVISITS—Redeem this code for 100k strength
TRADING—Redeem this code for 5 Multiplier
Get Strong Simulator FAQ
Here's everything you need to know regarding Get Strong Simulator codes.
How to redeem Get Strong Simulator codes
Redeeming codes in Get Strong Simulator is easy.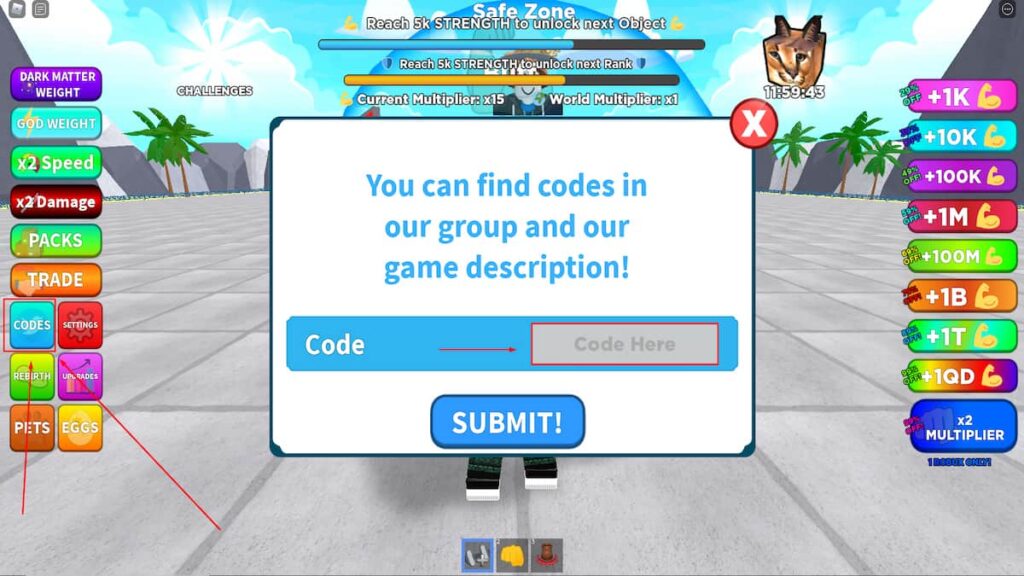 Open Get Strong Simulator and press Codes on the left.
Copy and paste the code from the list above into the text box.
Press the Submit button to claim the code's reward!
How can you get more Get Strong Simulator codes?
There are three ways to get more codes in Get Strong Simulator. Firstly, check here often as we try to keep the codes as up-to-date as possible. Second, join Discord because developers may mention a new code there even though it's for bug reports. Lastly, follow the developers on Twitter, where most codes are given out based on how many likes and follows they receive.
Why aren't my Get Strong Simulator codes working?
If you ever have trouble redeeming codes in Space Noob Tycoon, look at our list of possible reasons and solutions:
You must type codes exactly as they appear above, so we recommend copying and then pasting them into the game.
The code is no longer valid. If it's expired, please let us know in the comments and we will double-check it.
The code has already been entered and redeemed. You cannot redeem codes more than once.
How do I unlock the walls in Get Strong Simulator?
Players need a certain number of Rebirths to unlock the walls. Once you reach the required number of rebirths, the wall will disappear. Alternatively, you can pay Robux to unlock them quicker. You need to reach a certain level of strength before you can Rebirth.
What is Get Strong Simulator?
With Get Strong Simulator, you begin weak and little with a tiny barbell in your hand. The goal is to keep clicking until you grow large enough to Rebirth and start over. As you grow, your barbell becomes heavier and more chaotic. You can gain strength even faster every time you Rebirth, but the requirement to Rebirth again becomes much higher each time.
As you gain strength, you must attack other players and enter other areas where you can attack other players. The goal of the game is to be the strongest and biggest player.
If you're looking for codes for other games, we have a ton of them in our Roblox Game Codes post! You can also get a bunch of free stuff via our Roblox Promo Codes page.