How to EV train your Pokémon in Brilliant Diamond and Shining Pearl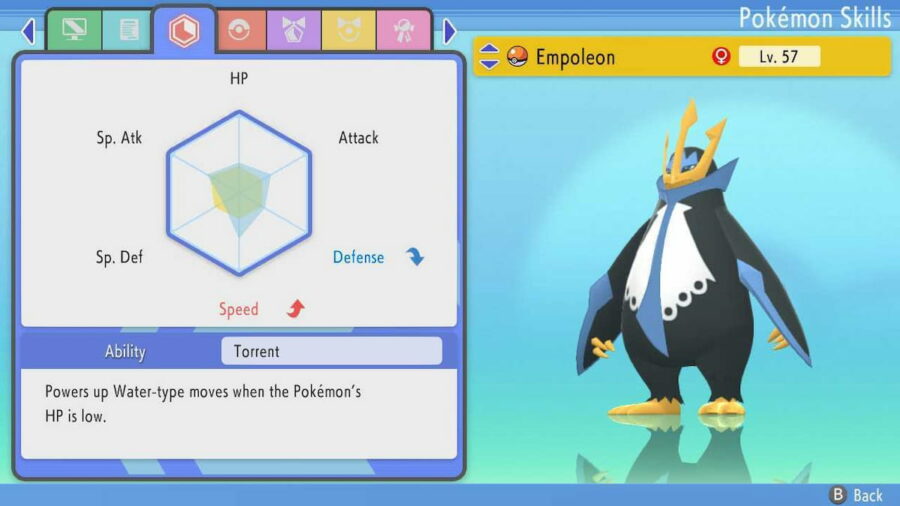 Screenshot by Pro Game Guides
Effort Values (EVs) are invisible numbers added to each of your Pokémon's stats, making them stronger. Each Pokémon can only have a maximum of 510 EV, and each stat can only have up to 252 EV points. Four EVs is one additional stat point.
EV points are gained by defeating or capturing Pokémon—thethat you gain just depends on the Pokémon. For example, a Wingull will give you one EV point for Speed. It's recommended for the EVs to go to the Pokémon's best stats.
How to check your Pokémon's EVs in Brilliant Diamond and Shining Pearl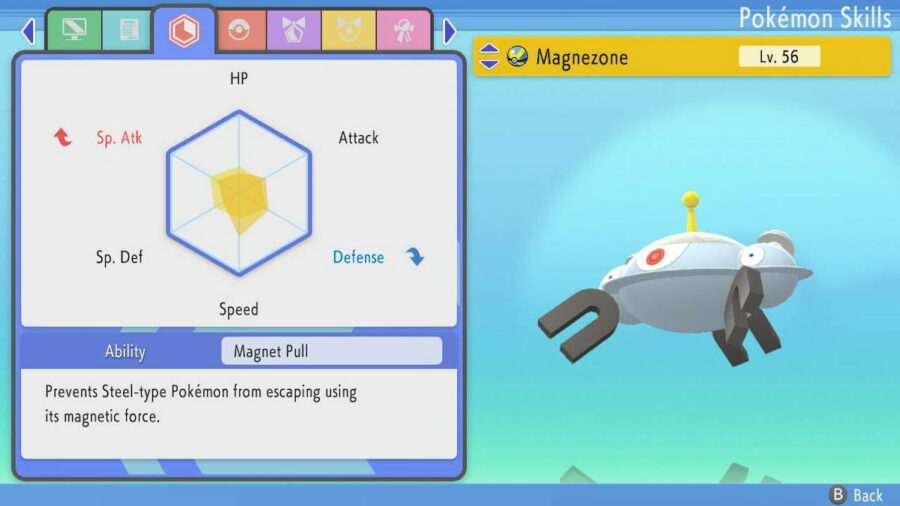 To check your Pokémon's EVs, go to their stat summary and press the X button. The lighter yellow hexagon is the Pokémon's base stats. The darker yellow one is the Pokemon's collective EV distribution. If you see a blue hexagon instead, that means the Pokémon can't gain anymore EV points.
Related: How to check IVs in Pokémon Brilliant Diamond and Shining Pearl
You won't have definite EV numbers, but you can get a pretty good estimate using the lighter yellow hexagon as reference point. Once a particular stat sparkles, that means it has reached 252 points or the maximum number of EV points.
Can you reset your EVs in Pokémon Brilliant Diamond and Shining Pearl?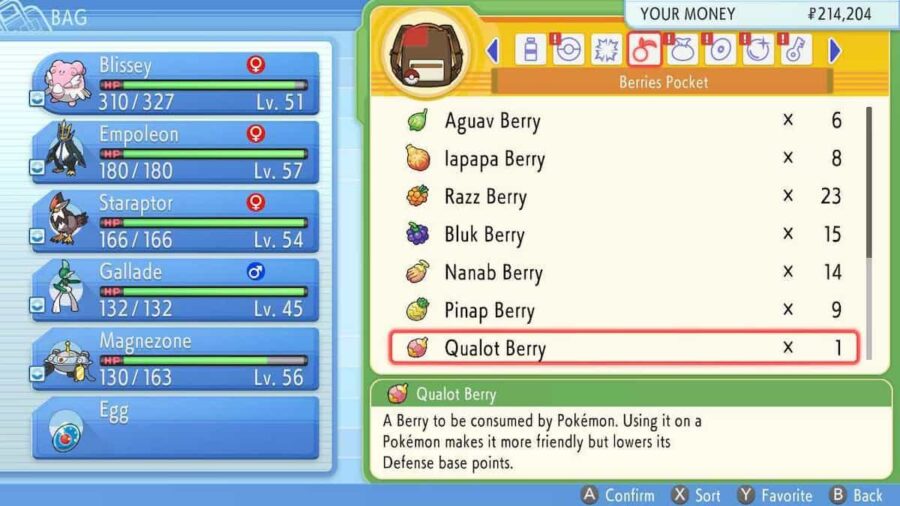 If you're just finding out about EVs now and would like to optimize their allocation, then good news: EVs can be reset. You just need six particular berries:
Pomeg Berry (lowers HP)
Kelpsy Berry (lowers Attack)
Qualot Berry (lowers Defense)
Hondew Berry (lowers Special Attack)
Grepa Berry (lowers Special Defense)
Tamato Berry (lowers Speed)
Each of these berries will lower EVs by 10 points. However, the first berry given will lower that Pokemon's EV stat to 100 regardless of its initial value. As such, you will only ever need a maximum of 11 berries to lower every stat's EV to zero.
You can purchase these berries from the Battle Park for one BP each. Of course, you can also plant them.
Each tree can bear a maximum of five berries with time. It will always yield two berries after the first cycle, and one every succeeding. Each of the six berries' growth cycle is 32 hours. You can water the trees to make them bear more berries or even mess with your Nintendo Switch's date and time to speed up their growth.
How to train your Pokémon's EVs in Brilliant Diamond and Shining Pearl
1. Give them Vitamins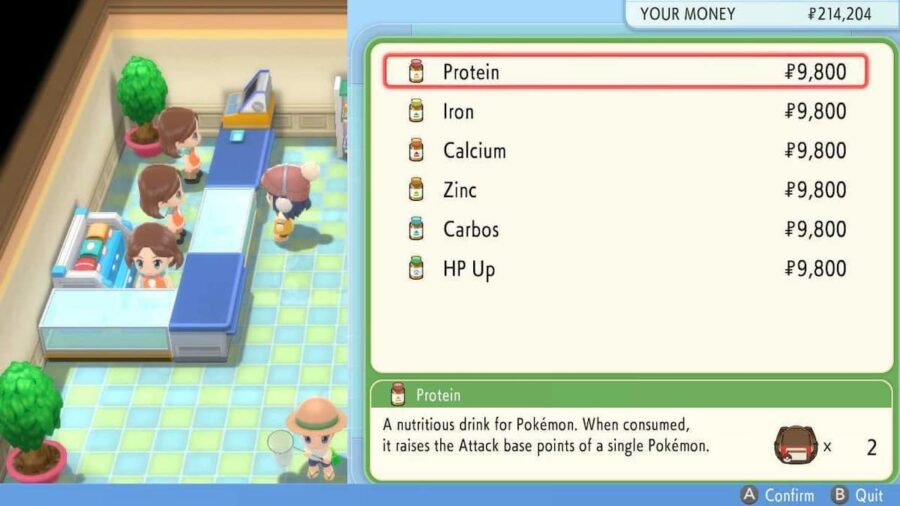 Vitamins raise EV points by 10. There are many of them scattered throughout Sinnoh, but you can always purchase them in the second floor of the Veilstone Department Store for 9,800 Pokédollars. Below are all the Vitamins available:
HP Up (HP)
Protein (Attack)
Iron (Defense)
Calcium (Special Attack)
Zinc (Special Defense)
Carbos (Speed)
Maxing an EV stat from zero will need 53 Vitamins, which is a grand total of 519,400 Pokédollars. Post-Hall of Fame, you can also purchase Vitamins in the Battle Tower for one BP each.
Related: How to make money fast in Pokémon Brilliant Diamond and Shining Pearl
2. Equip Power Items
As mentioned, defeating or capturing certain Pokémon gives you one EV point for a particular stat. But since a stat's max EV is 252, make sure you grab Power Items from the Battle Tower to maximize the number of EV points they receive.
Power Weight (adds points to HP)
Power Bracer (adds points to Attack)
Power Belt (adds points to Defense)
Power Lens (adds points to Special Attack)
Power Band (adds points to Special Defense)
Power Anklet (adds points to Speed)
Each Power Item will allow a Pokémon to receive eight additional EV points per battle.
Moreover, since Brilliant Diamond and Shining Pearl has EXP share permanently on, every Pokémon in your party gets the EV point every win. However, only those holding the Power Item will get the boost. So, if they defeated a Wingull with a Power Anklet on, they would gain nine EV points for Speed instead of one.
3. Battle the right Pokémon
Now that you have your Power Items, you're all set to EV train. Below are the six Pokémon that you want to defeat and where they frequently spawn:
Bidoof in Route 201 (HP)
Machop (one EV point), Machoke and Bibarel (two EV points) in Route 210 (Attack)
Geodude and Hippopotas in the Ruin Manic Tunnel along Route 214 (Defense)
Gastly in the Old Chateau inside Eterna Forest (Special Attack)
Tentacruel (two EV points) in Route 223, North of Sunyshore City (Special Defense)
Starly in Route 201 (Speed)
All Pokémon with no EV points indicated give one EV point.
And that's all you need to know! Between Vitamins and Pokémon battling, there's no one right method to EV train. The first one is faster but expensive, and the second one is slower but will barely cost you anything. Train your Pokémon however you like.
For more help with Pokémon Brilliant Diamond and Shining Pearl, we at Pro Game Guides have you covered.