How to get all free items in Roblox Beatland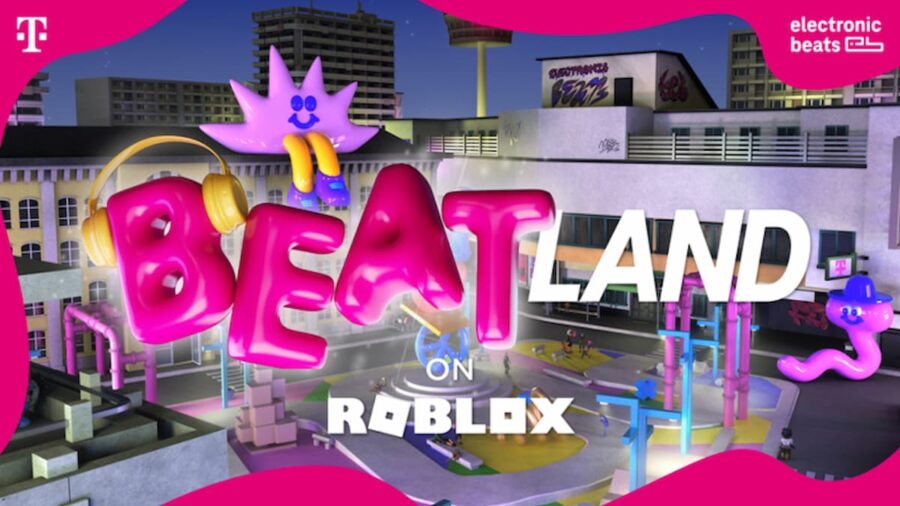 Image via Roblox Beatland
The Fortune 500 company Deutsche Telekom, owner of T-Mobile, has brought its music marketing program, Telekom Electronic Beats, to Roblox in the form of the inclusive, music-celebrating experience, Beatland. With this collaboration comes eight free items for players to unlock, including the Retro iconic magenta boombox, We want Peace – Sign, and more. To find out how to unlock all of these items, continue reading below.
Unlocking free items
While there are nearly 20 Telekom-themed avatar items in total for players to obtain, most of them need to be purchased with Robux inside of the experience. All of the items that can be earned for free are briefly listed below, along with how to earn them. A more detailed explanation of how to earn these items follows afterward.
Earning Beatcoins
As mentioned above, all of the free items inside of Beatland can be purchased with Beatcoins. To earn these coins, players can either find them around the map or complete jobs. If you choose to explore for coins rather than participate in jobs, keep your eye out for the coins pictured below.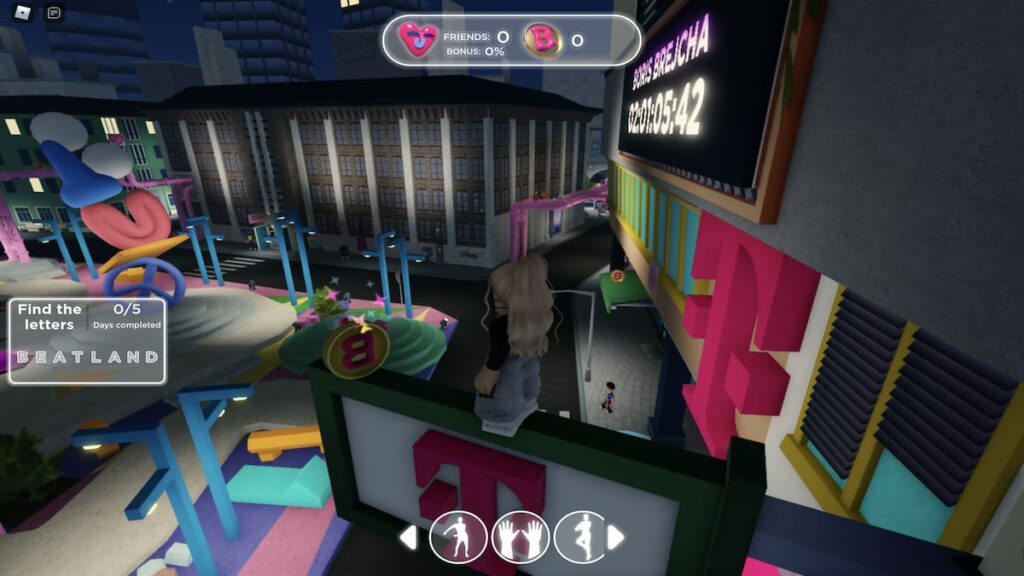 Though you add two Beatcoins to your bank for each tangible Beatcoin that you collect around the map, you'll still need to collect around 1,500 individual Beatcoins in order to unlock all five of the purchasable free items. Because of this, it may be easier to complete jobs instead (extra emphasis on "may").
Related: Roblox Promo Codes List (April 2022) – Free Clothes & Items!
To begin a job, look for any glowing circle on the ground and approach it.
Each circle color signifies a specific job. The orange circle pictured above allocates players to work as the City Janitor. To start working, walk into the circle of your choosing and select Unlock Job or Take Job, depending on wether or not you've done it before. You'll also be able to see how many Beatcoins you'll earn from completing the job and if you need to pay any Beatcoins to work it.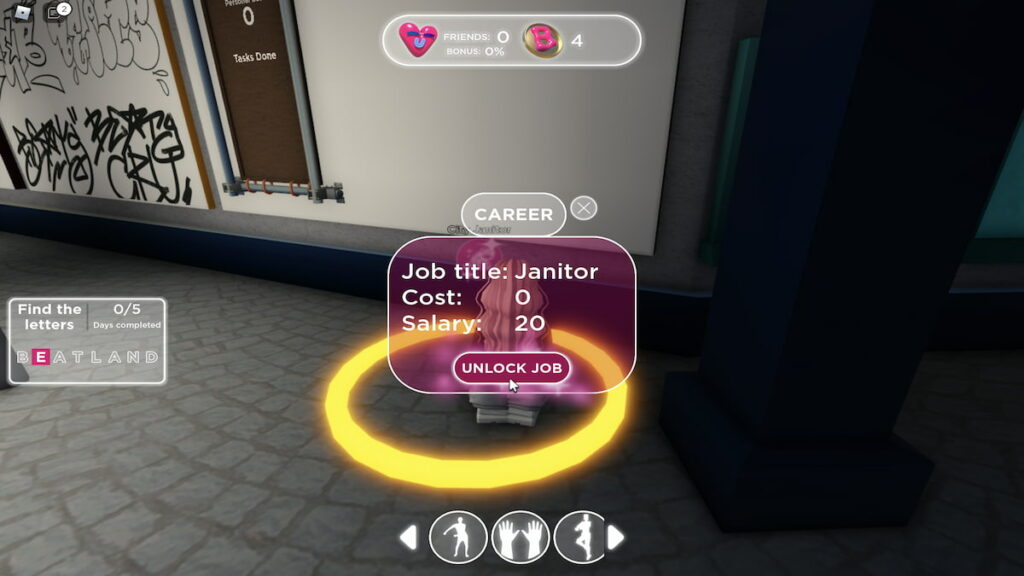 Once you've unlocked and taken the job, follow the pink arrows that appear on your screen—these will lead you to your job's location.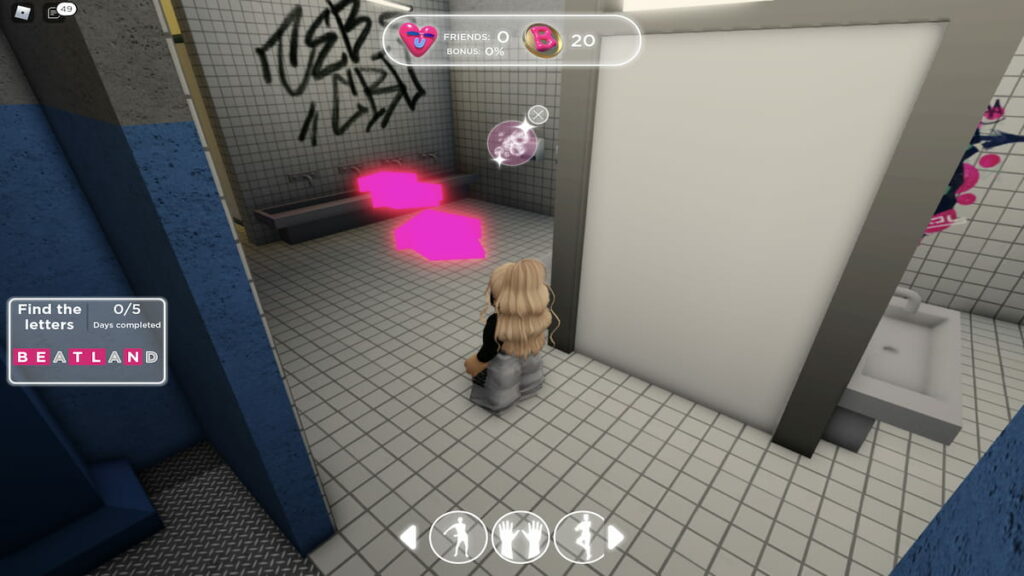 If everything works and you don't run into any bugs, the pink arrows should direct you to an area with a blue circle and an action prompt.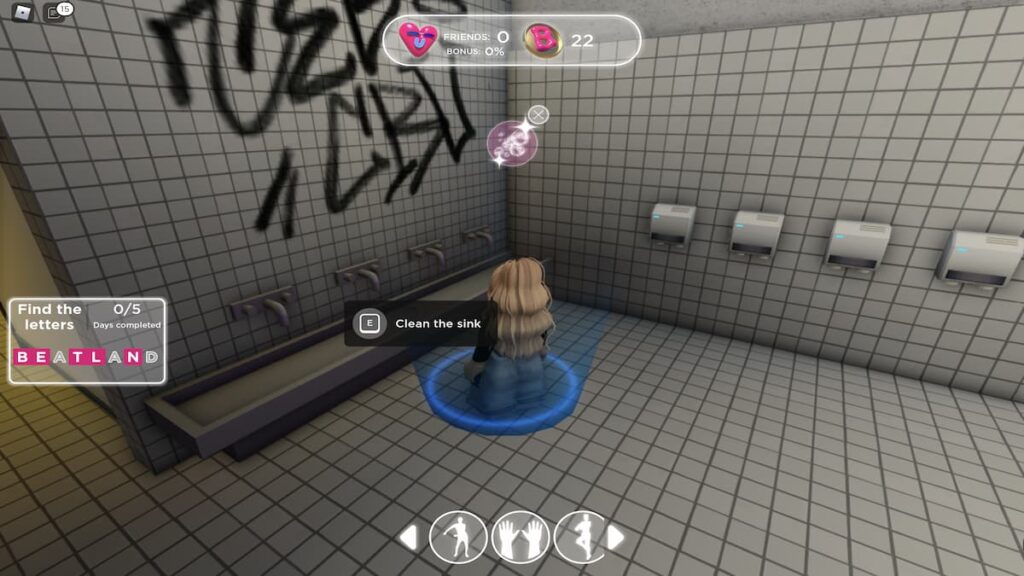 Because this experience is exceptionally buggy at the time of this article's publication, however, it's likely that you'll be brought to a seemingly random location with no objective and, therefore, nothing to do.
If this happens, you'll unfortunately need to quit your current job by pressing the small X next to your job's icon and return to its starting point to try again. This glitch happened to us numerous times on multiple different jobs. In fact, only two out of our six attempts at completing jobs were successful. During the other four attempts the blue circle would either never appear, appear but not offer an action prompt, or appear and offer an action prompt that loops us into a never-ending animation.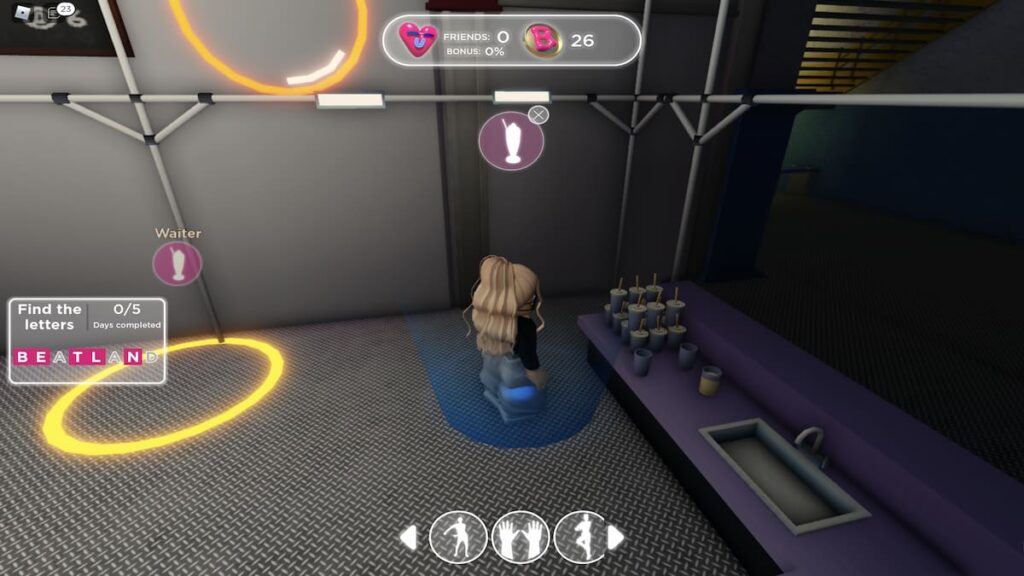 Depending on which one you've chosen, you'll earn anywhere from 10 to 30 Beatcoins for each job that you successfully complete. This means that, assuming you won't be collecting a single Beatcoin from around the map, you'll need to complete somewhere between 50 to 100 jobs in order to earn enough Beatcoins to unlock all five of the purchasable free items.
Related: How to get the Vans Black White Checkerboard Umbrella in Roblox Vans World
Collecting letters
Unlike the other five free items that can be purchased with Beatcoins, the sixth item, the Boris Brejcha Vinyl Record Shield, can only be unlocked by those who find all eight of the letters that make up the word BEATLAND once a day for five days. It's unknown at the time of this article's publication if these letters spawn in new locations every day or if they stay in the same areas. But for now, all eight letter locations can be found below, and the description of each location is below the accompanying screenshot.
Once you've found the final letter, your letter tracker on the left side of your screen will turn into a cooldown timer that's set to 15 hours. After this timer reaches zero, you will be able to find the next set of eight letters.
Completing the Tower Obby
To find the Tower Obby, spawn into Beatland and look for the sign pictured below—following the direction that this sign is pointing will lead you to the obby's entrance.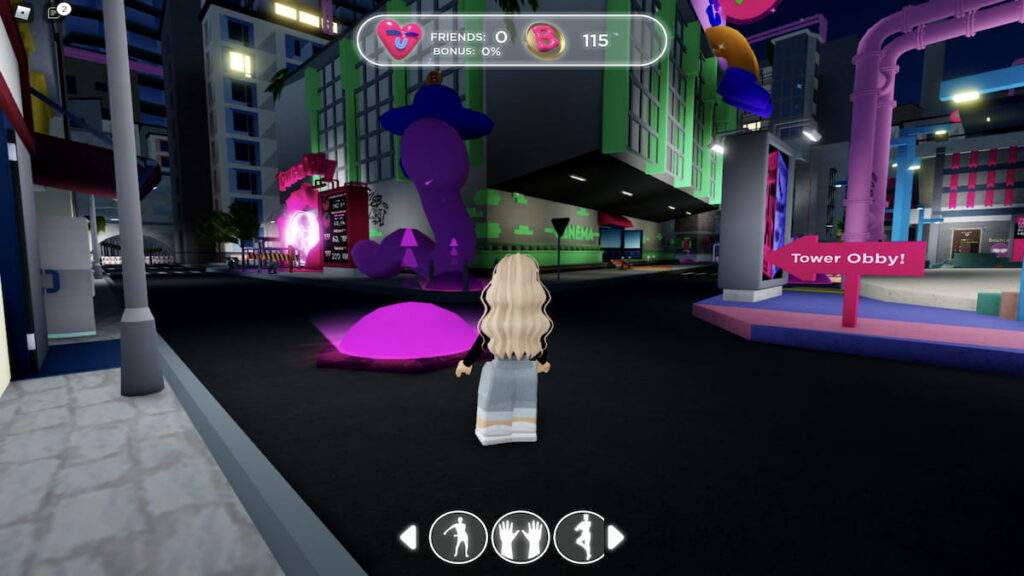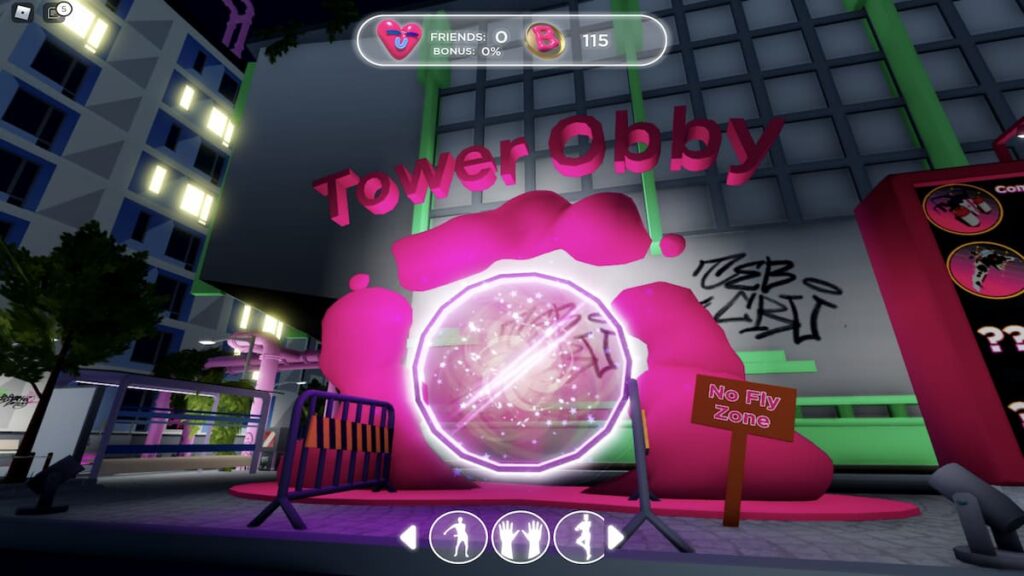 Once inside the obby, you'll need to complete multiple stages that range in difficulty in order to reach the top and collect the Telekom 5G Jetpack. Examples of these stages can be found below.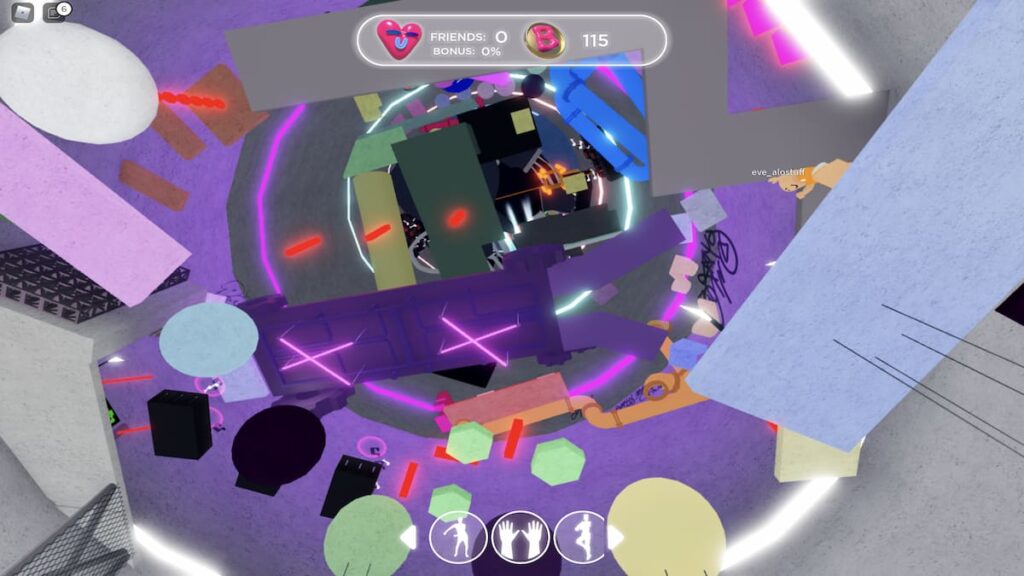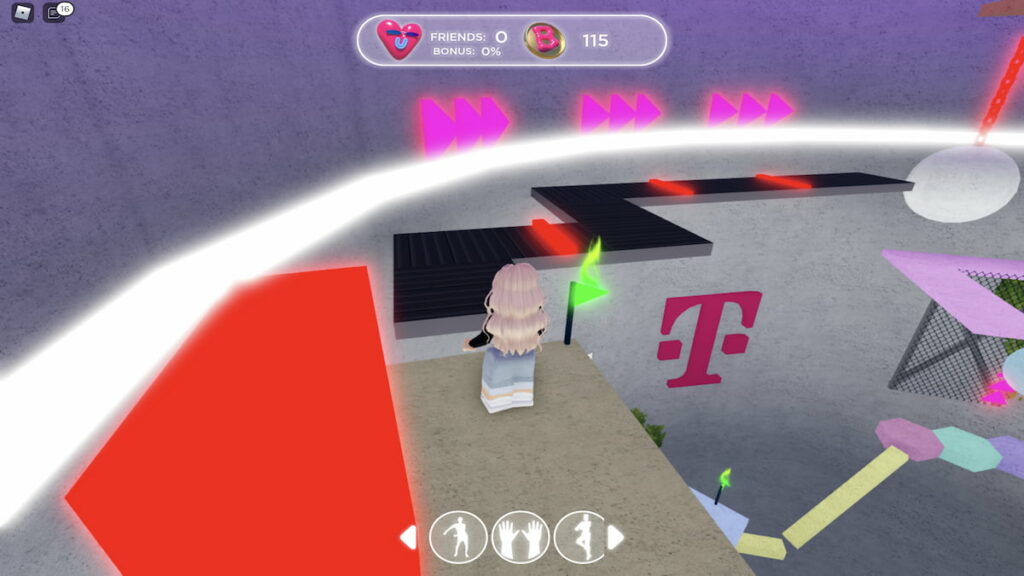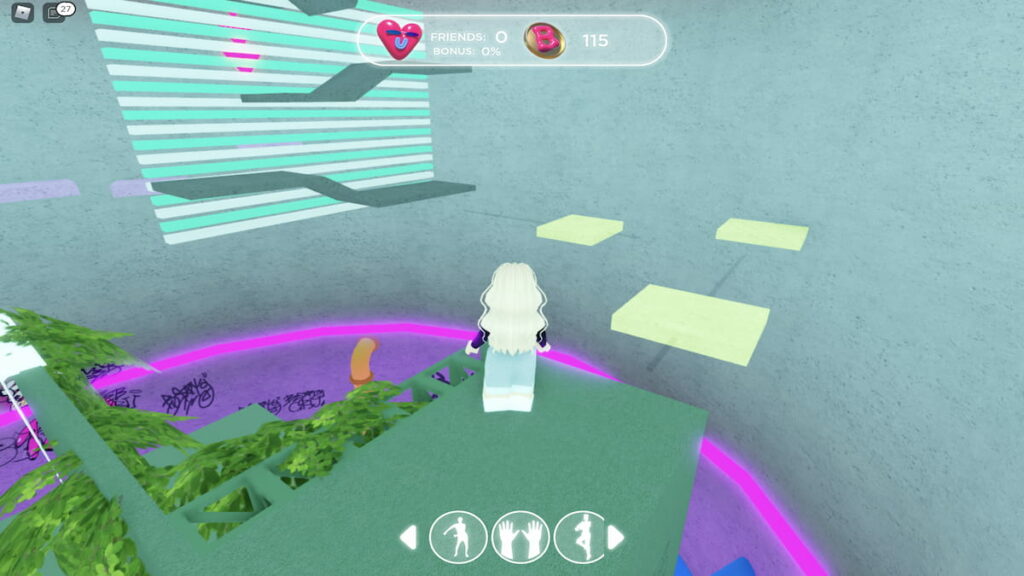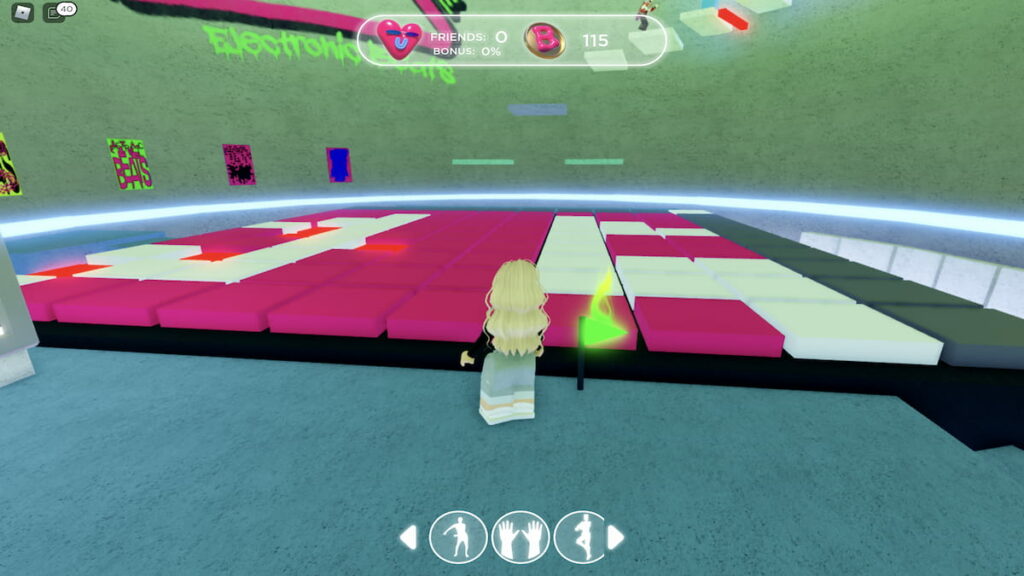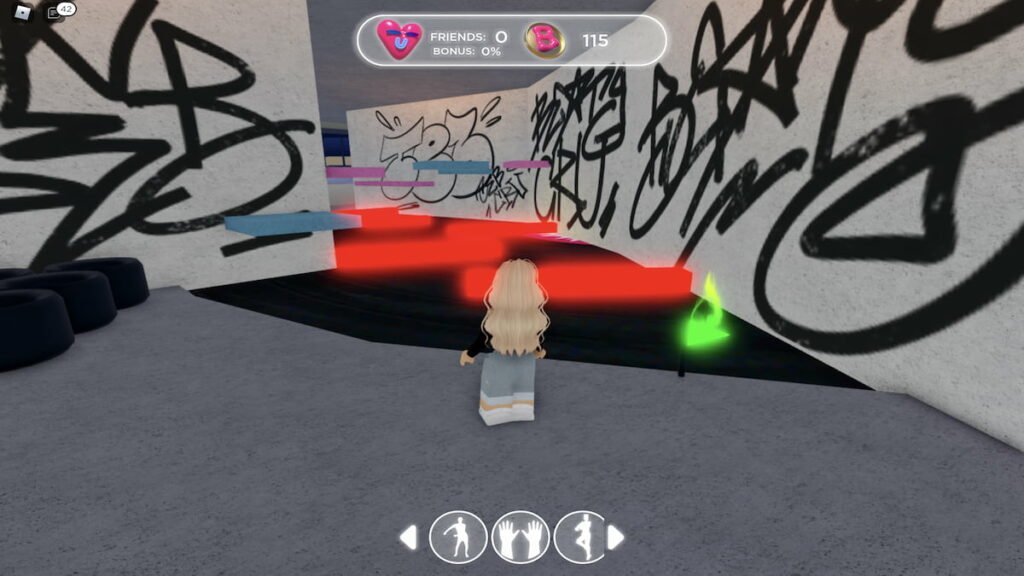 Once you reach the area below, pat yourself on the back—you're in the home stretch!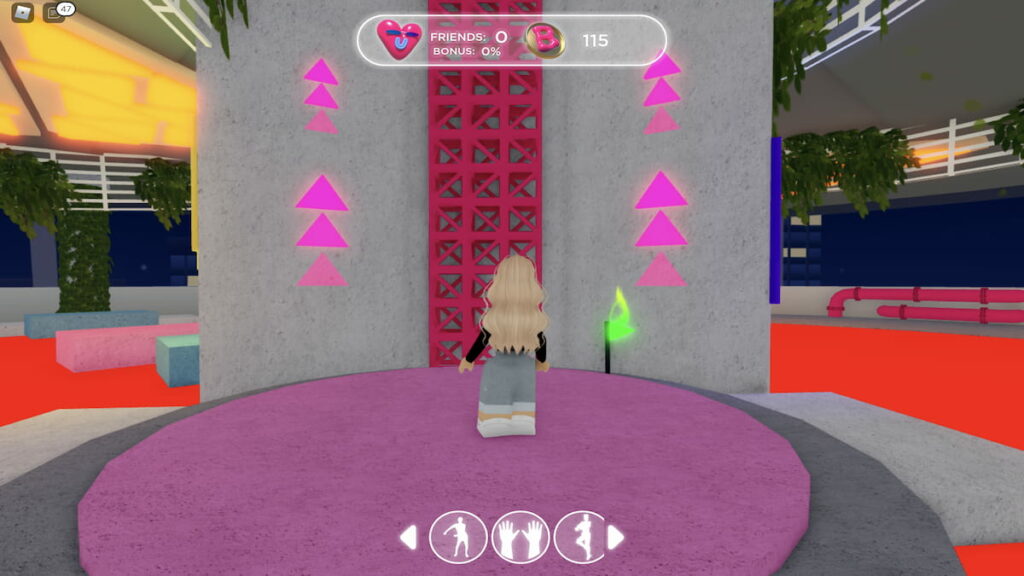 Climb the ladder in front of you, walk up the rainbow stairs, and approach the jetpack to claim your free UGC item!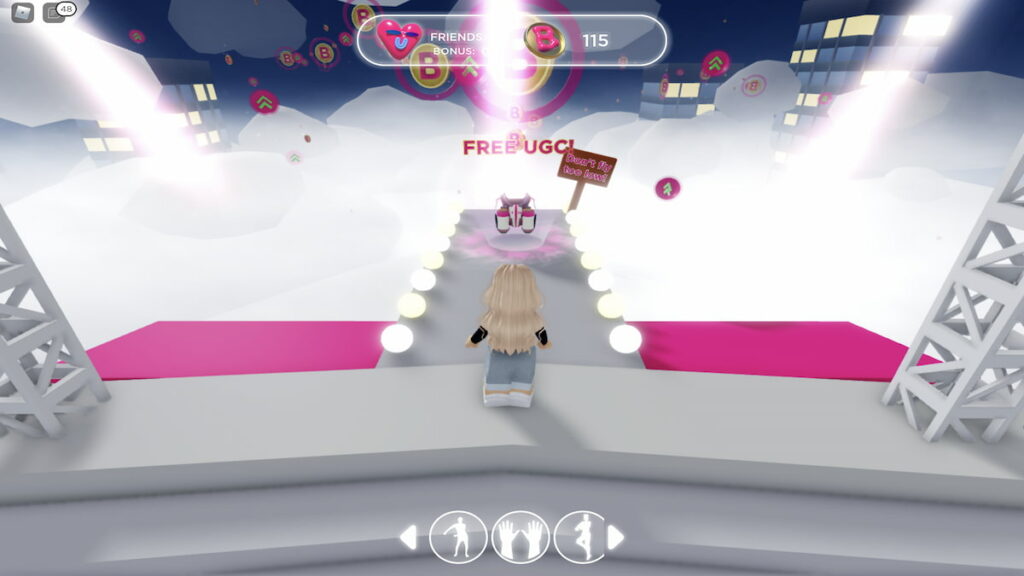 End
As mentioned above, it seems as though this experience is exceptionally buggy for everyone, so keep in mind that you're not alone in your glitchy struggles. If you don't feel like these items are worth the time and effort that they require to obtain them, that's ok!
Looking for more Roblox content? Check out our recent guides on How to get the Vans Step Up Hat in Roblox Vans World or How to get the Dolo Tonight Backpack in the Roblox Dolo Tonight Concert Experience!