Do you think you could get dropped anywhere in Fortnite and be able to guess where you are? That's what Where in Fortnite challenges players to do. Flex your Fortnite trivia prowess in single or multiplayer with this fan-made game. Here's how to find the game and get started.
What is 'Where in Fortnite'?
Where in Fortnite is an unofficial Fortnite location guessing game. It is unofficial because it is not made by Epic Games, but rather by a fan who wanted to create a Fortnite-related game. While the main goal is to guess where on a given Fortnite map you are, it truly is a trivia game at its core. This is because you'll need an immense knowledge of Fortnite locations to do well.
How do you play 'Where in Fortnite'?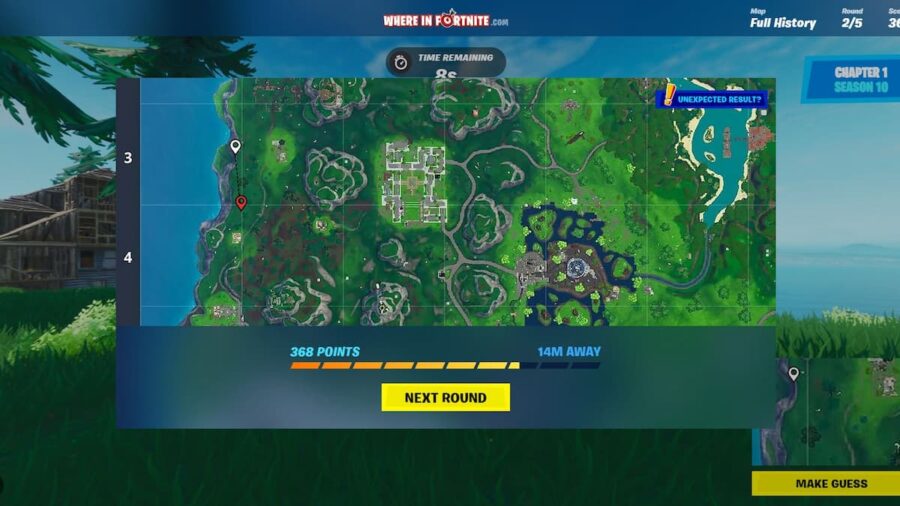 The first thing you'll do when you play Where in Fortnite is choose what type of maps you'll want to be tested on. You can choose between A Full Story (all seasons and chapters), All of Chapter 1, All of Chapter 2, All of Chapter 3, and Season Select (pick a specific season in any chapter). From there, you'll customize your game by choosing these options:
Solo or Multiplayer
# of rounds (between five and 40 rounds)
Round time (none or between 10 and 60 seconds)
Panning camera on or off
Zooming camera on or off
After you customize these options, you'll be dropped somewhere on a Fortnite map. Look at the smaller map on the bottom of the screen. Place a pin on your best guess of where you are. Once you've done this, you'll be told how close you are and taken to the next round. Try and get as high of a score as possible to win.
Want to see more about location guessing games? Check out GeoGuessr Free Alternatives – Play Geography Games Free on Pro Game Guides.