Poo Tycoon Codes (June 2022)
Screenshot by Pro Game Guides
Whether you're looking to play a game that's meant to be silly or you're really looking to leave a mark as a Tycoon extraordinaire, you'll find it in Roblox Poo Tycoon. While playing the game, your goal is to generate different kinds of Poo that (for some reason) can be sold to earn you cash. The better Poos you make, the more money they're worth!
All Roblox doctors will recommend you occasionally check your Poo Codes Lists to make sure you don't miss anything important. You can find the most recent codes for the game in our list below! Most of these codes provide Boosts that help you earn cash faster in the game, so be sure to redeem them before you start earning cash if you want to launch yourself to the top of the leaderboard.
If you find the codes list below helpful, don't forget to check out our list of over 200 Roblox game codes. We have the latest codes for many other Roblox tycoon games, such as Millionaire Empire Tycoon, Arcade Tycoon, and My Bee Tycoon. If you're looking for other types of games, check out our codes for Bloxston Mystery!
All Roblox Poo Tycoon Codes List
Updated July 1, 2022

Added new code
Poo Tycoon Codes (Working)
Here's a look at all the working Poo Tycoon codes.
3FLOORS—Redeem for a 10 minute 2x Cash Boost (New)
BOX7Disc—Redeem for a 10 minute 2x Cash Boost
mushroom—Redeem for a 5 minute 2x Cash Boost
BOX7—Redeem for a 10 minute 2x Cash Boost
IdidApoop—Redeem for a 10 minute 2x Cash Boost
Poo Tycoon Codes (Expired)
These Poo Tycoon codes no longer work.
Roblox Poo Tycoon Frequently Asked Questions
Here are answers to some of the most frequently asked questions about Poo Tycoon and common issues players encounter.
How to Redeem Poo Tycoon Codes
Redeeming codes for free rewards is easy, just follow the steps below.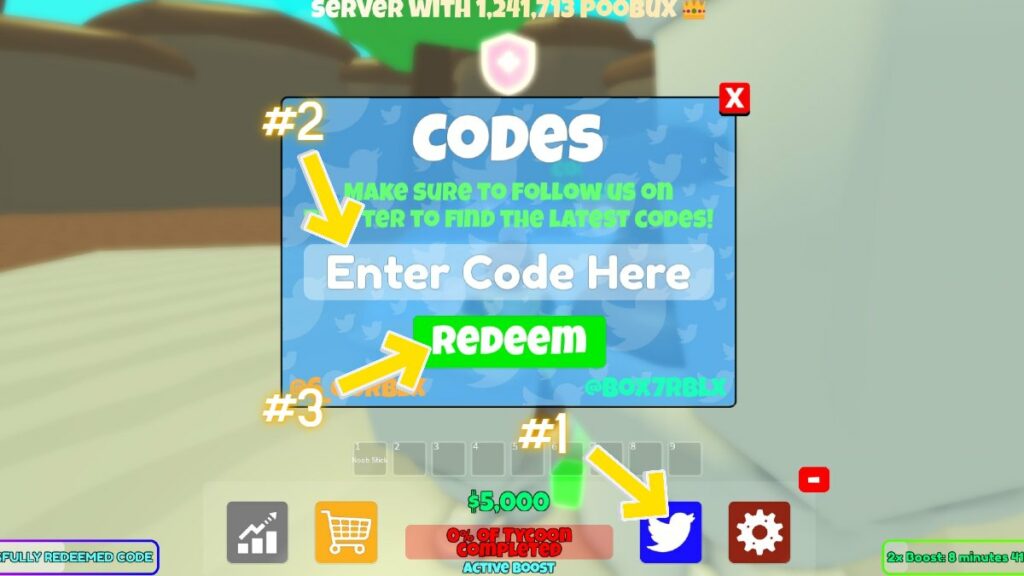 In the game, press the Twitter Bird icon on the bottom of the screen.
In the text box, enter the code exactly as it appears in the list above.
Press the Redeem button to claim your reward!
How can I get more cash quickly after using Poo Tycoon codes?
As with most Roblox tycoon games, the goal of the game is to build the ultimate business. While there are benefits to fighting other players in the middle, purchasing weapons and elaborate setups only slows down your income. The fastest way to get cash is to only purchase objects that help you earn more money. After purchasing a basic door that guards you from the other players, put all your money into Poo makers and building upgrades (so you can move to the next floor).
Why aren't my Poo Tycoon codes working?
Poo Tycoon developer Box7! Studios is fairly active within their gaming community, which means the codes are regularly cycled out when new ones are added. One possible cause for the codes above to fail is that they have expired. If this is the case, be sure to mention it to us in the comments so we can update the page!
Another cause for invalid codes is that it was entered incorrectly. To avoid this mistake, copy and paste the code directly from our page into the game. Bookmark this page and check back regularly to see which codes have expired and which ones still work.
What is Poo Tycoon?
Roblox Poo Tycoon is a silly game that follows the same mechanics as most other Roblox tycoon games, except you're selling different kinds of Poo! As you play the game, the Poos you make become more rare types and are, therefore, more valuable on the market. No one knows why some Roblox citizens are buying them, but you can now make a living in the game from selling anything!
If you're looking for codes for other games, we have a ton of them in our Roblox Game Codes post! You can also get a bunch of free stuff via our Roblox Promo Codes page.