Roblox Build It, Play It: Codes, Island of Move, Rewards!
If you've loved Roblox Creator Challenges in the past, chances are you're a fan of the Roblox Build It, Play It series! It looks like this new type of game will replace creator challenges and give you new ways to learn how to create games on Roblox. If that really doesn't interest you, there will be some great new Avatar items to get by completing them! So even if you don't plan on creating games, it's worth spending your time looking for them.
Roblox Build It, Play It Release Date
Build It, Play It was launched on July 16, 2020. You can go to this link right here to start learning how to create games!
NEW UPDATE: Two new codes to be released on August 13!
Two new codes will be released providing you with a couple of new cosmetics on August 13, 2020. We will have the codes listed in this post as soon as they are available to redeem. You should go to The Island of Move game and enter them like last time! You can take a look at the new cosmetics that you will be able to use on your avatar below.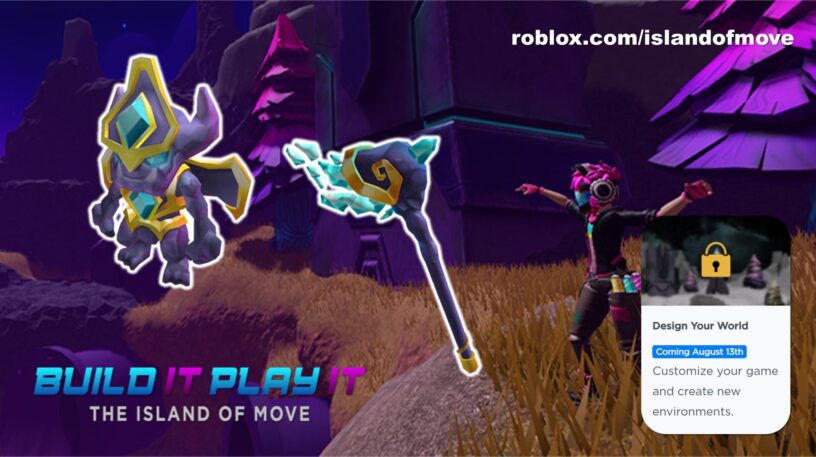 Build It, Play It Codes
These are the four codes that you will need to enter the Island of Move game to win the four different cosmetics that can be seen below.
All codes should be working now! Just jump into the game and enter all four to receive the rewards.
Code 1 (Reward: Build it Backpack): Setting the stage
Code 2 (Reward: Hustle Hat): StrikeAPose
Code 3 (Reward: Swift Shadows): Move
Code 4 (Reward: Cardio Cans): VictoryLap
Build It, Play It avatar items
You can earn the following avatars by entering codes in the Island of Move game.
What are the challenges for creators and build it, play it?
Creator Challenges were a way to earn cosmetics by entering a game and answering questions related to game creation. You can read some tutorials to learn the answers, or you can just guess your way through them. If you completed these challenges, you would be rewarded with a variety of avatar items! These challenges for creators still exist and you can play them right now. We took a full look at all of them in our Promo Codes post, but here's a list of the ones that are still available:
The Galactic Speedway challenges were the latest and you can earn six different cosmetics by completing them. The other three can be finished with three new free avatar items each. So if you haven't done them yet, you need to go ahead and do them to get the rewards.