Roblox Clicker Champions Codes (June 2022)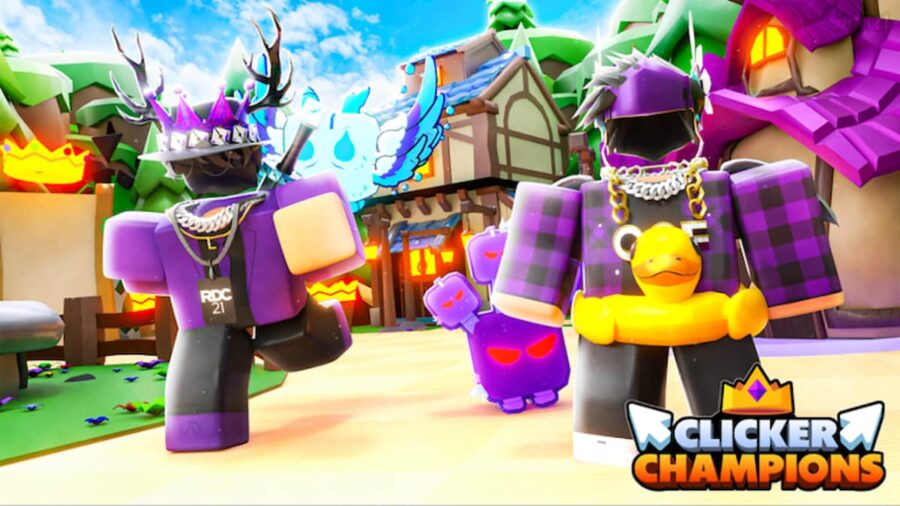 Image via Advance Simulators
Roblox Clicker Champions is a chill simulator experience that only requires some clicking! Click as fast as you can to save up your clicks and use them to unlock portals to new islands, purchase various rare pets, and upgrade your skills. The more clicks you have, the more chances you have to hatch eggs and find legendary and exotic pets.
Clicks are essential to your Clicker Champion journey, but it can take a while to save them up to buy more eggs and have a greater chance of getting rare pets. That's why these codes are so helpful. You can get plenty of free clicks and luck boosts to help get better pets with as little as typing one word!
We have plenty more code lists with many free rewards for great games just like Clicker Champions, such as Roblox Clicker Simulator Codes (June 2022), Roblox Clicker Frenzy Codes (June 2022), and Roblox Clicker Realms X Codes (June 2022). Feel free to browse Pro Game Guides for more great Roblox content, too. We surely have something here for you!
All Clicker Champions Codes List
Updated June 23, 2022

Added new codes
Clicker Champions Codes (Working)
Here's a look at all the working Clicker Champions Codes.
MAGMA—Earn a free boost
RELEASE—Earn free clicks
Clicker Champions Codes (Expired)
These codes for Clicker Champions no longer work.
There are no expired codes for Clicker Champions.
Roblox Clicker Champions FAQ
Here's everything you need to know regarding Clicker Champions codes.
How to redeem Clicker Champions codes
Redeeming Clicker Champions codes is super easy, and you can earn your free rewards in seconds.
Click on the red shopping basket icon on the left side of the screen
Scroll down till you see the codes section
Click inside the box that says, "Enter Code Here…"
Type in the code
Press the green Redeem button
Enjoy your reward!
How can you get more Clicker Champions codes?
You can find more codes as the developer adds them by consistently checking the description below Clicker Champions. This is an easily accessible area where the developer adds codes as they come to the game, usually when a goal is met or an update is made. You can also go to the Advance Simulators page and head to their group page to stay up-to-date with other announcements or events. Here, they have links to other social media platforms, such as Discord and Twitter, that can potentially reveal info about codes as well. The best way to get more codes, though, is to bookmark this page and check back regularly, as we update this page when new codes are made available.
Why aren't my Clicker Champions codes working?
Always make sure you double-check your spelling and typing when entering a code. Most codes are case-sensitive, which means even the slightest typo could cause the code to be invalid. The best way to avoid this is to copy and paste the code into the menu.
Codes can also expire without little to no warning as new codes come in. This means the code could stop working without us realizing it. If you notice a code is expired, feel free to let us know in the comments below so we can keep the list updated and accurate for your benefit!
What is Clicker Champions?
Clicker Champions is a fun simulation and tycoon-like experience wherein players attempt to upgrade their skills, venture to new worlds, and hatch eggs of different rarities by simply clicking with their mouse. Clicks are used as currency for most of the items in the game, meaning that the more a player clicks, the more they can grow their character, adventure, and collect more pets. Their pets boost them to give them more clicking power, and the better the rarity, the stronger they become. They must try their luck by purchasing various eggs in the hopes of getting a specialty pet by chance, then use their clicks to rebirth and level up their clicking abilities even more.
How can you get daily rewards in Clicker Champions?
Codes are an excellent way to get quick and easy free rewards. However, the great thing about Clicker Champions is that there are other ways you can get some free rewards in-game. Check out the little gift icon on the top of your screen. As the timers tick down, you can collect the rewards! You can also head to the prize wheel in the lobby to spin for a reward every day. You can get boosts, coins, gems, and more for free.
If you're looking for codes for other games, we have a ton of them in our Roblox Game Codes post! You can also get a bunch of free stuff via our Roblox Promo Codes page.