What is the YBA Trello Link?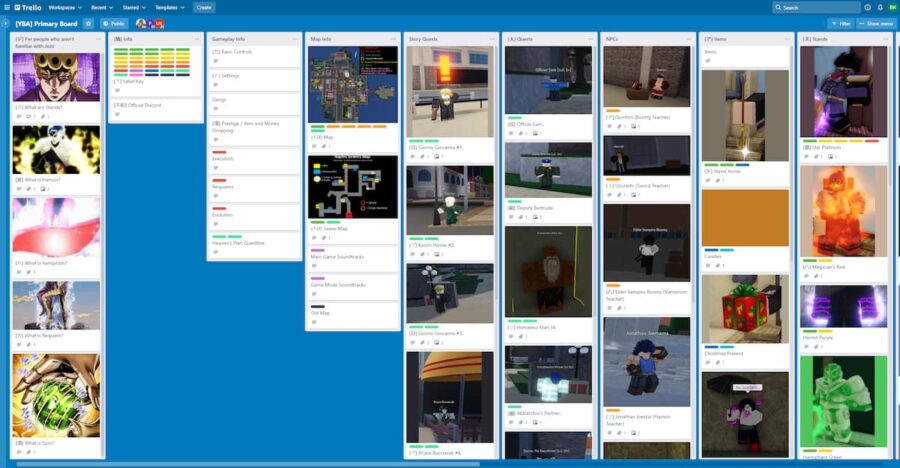 Screenshot by Pro Game Guides
Your Bizarre Adventure, or YBA for short, is a Roblox game themed after the anime Jojo's Bizarre Adventure. In this game, players experience life as a Stand user, meeting lovable characters from the anime along the way.
However, it can be intimidating for new players to approach a game like Your Bizarre Adventure, especially if they haven't seen the source material. Here is the Trello link for Your Bizarre Adventure, which provides helpful details about the game.
YBA Trello link
Where to find the YBA Trello board
The YBA Trello link is [YBA] Primary Board | Trello. On this board, players can find explanations of the game's mechanics, including a list of Stands. This Trello board also contains definitions for important story terms, such as "Hamon" and "Vampirism." This website is a helpful resource for players with questions that they can't find answers for.
In service of players who are struggling with fighting a boss, this Trello board has tips and tricks on fighting every boss in the game. It also contains guides for fighting normal enemies and lists their attack patterns. Although this Trello board is a beneficial resource, we also have several Your Bizarre Adventure guides here on Pro Game Guides.
Related: Your Bizarre Adventure Codes – Free Arrows & Rokakaka (July 2022)
Who are the YBA developers?
Your Bizarre Adventure was created by Bizarre Studios, which was founded in April of 2017. Your Bizarre Adventure is their only game that has been published as of yet. Bizarre Studios consists of everything from 3D modelers to visual effects artists.
Here are all of the Your Bizarre Adventure developers:
UzuKee
Sunjoon
Snaliel
Ancient_Fruits
Sheikal
Stucksducks
For more Your Bizarre Adventure guides, come check out How to level up fast in Roblox Your Bizarre Adventure here on Pro Game Guides.